<![if !vml]>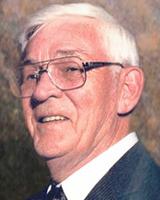 <![endif]>April 23, 2012
NORTH TONAWANDA — William J. "Bill" Goodwin, 82, of Niagara Falls, NY, passed away on Sunday, April 22, 2012, at Northgate Health Care Facility, after a lengthy illness. Born in Niagara Falls, NY on February 18, 1930 to Wayne and Ruby (Josey) Goodwin. He moved to Alabama as a boy and moved back to Niagara Falls as a teenager. He graduated from Niagara Falls High School in 1948, and then attended Niagara University.

Bill volunteered and served in the U.S. Navy from 1951 through 1954, where he was trained as a Lead Electricians Mate, 2nd Class. He served on the minesweeper USS Tumult during the Korean Conflict and received numerous naval commendations, including the National Defense Service Medal, Good Conduct and Naval Occupation Service Medals, Expert Marksman Medal and Special Commendation for Technical Expertise. While in the Navy, Bill married his sweetheart, Regina A. (Jeanne) Bentley, of Niagara Falls.

Upon his honorable discharge Bill returned to Niagara Falls, where he went to work for E.I. DuPont. During his 38-year career at DuPont, Bill worked his way up from Millwright Apprentice to Electrical Maintenance/Safety Supervisor. He retired from DuPont in 1988, but continued as a consultant for several more years. Bill also served on the Niagara Falls Bridge Commission from 1976 to 1984, including a term as President, providing advice regarding bridge maintenance.

In addition to his wife of 60 years, Jeanne, he is survived by three children, Kathleen (Brian) Sparks of Springdale, AR, Michael (Eugenia) Goodwin of Portland, OR, Laurel (Charles) Honza of Rogers, AR; five grandchildren, Marisa, Shane and Brianne Goodwin, and Brandon and Emily Norris. He is also survived by two sisters, Dorothy (John) Hoy of Niagara Falls and Helen (Robert) Vaughan of Augusta, GA; and several nieces and nephews. He was predeceased by a brother, Glenn Goodwin; and a sister, Barbara King.

Bill and Jeanne enjoyed their summer home and many friends in Restoule, Ontario, Canada for over 40 years.

Friends may call at the LANE FUNERAL HOME, INC., 8622 Buffalo Avenue, on Wednesday from 2-4 and 7-9 PM, where services will be held at 8:30 PM. In lieu of flowers, donations may be made in honor of his caregivers c/o the Memory Care Unit at Northgate Manor, 7264 Nash Road, North Tonawanda, NY 14120.