Virginia "Ginger" Josey Bush, 78, passed away Saturday, December 7, 2019 at Regional One Medical Center in Memphis, TN. After a short, hard-fought battle with cancer, she was called to her heavenly home.
Ginger was born October 24, 1941 in Wharton, TX to James Carlisle Josey and Lenoir Cox Josey. She grew up in Greenwood, MS and graduated from Greenwood High School. After high school, she received a bachelor's degree in elementary education from Mississippi University for Women and a master's degree in education from Delta State University.
In 1963, Mrs. Bush moved to Clarksdale to begin her teaching career. For 29 years, she taught fifth grade language arts at Kirkpatrick Elementary School until she retired in 1992. Mrs. Bush was a beloved favorite among many students, as she fully devoted herself to each of her students and to furthering their education. With such a lengthy career at Kirkpatrick, Mrs. Bush taught multiple generations of students. It could be said that Mrs. Bush taught "half of Clarksdale", with one student even being her future son-in-law.
Ginger met and married Judge Kenneth Bradley Bush in June 1964. They shared a loving 53 years of marriage with one another.
Ginger was a faithful member St. Paul's United Methodist Church, where she cheerfully sung in the choir each and every Sunday. She served as the church's higher education coordinator, participated in handbell performances, volunteered with annual vacation bible schools, and assisted in "Adopt-a-School" achievement celebrations for Kirkpatrick. She also faithfully assisted in serving meals to local individuals at Christ's Kitchen at Haven United Methodist Church. Ginger was always eager and willing to serve the needs of others, especially her church family.
After her retirement from teaching, Ginger became a very active member in the Iota Chapter of Delta Kappa Gamma retired teachers' association.
Ginger also wholeheartedly devoted herself to her family. After raising two children of her own, "Mama" became a proud, loving grandparent to four grandchildren, for whom she would do anything.
Ginger is preceded in death by her husband Judge Kenneth Bush and her parents Mr. and Mrs. J.C. Josey. She is survived by Kenneth Bradley Bush II (Jennifer) of Hernando and Ginny Matthews (Jason) of Clarksdale. In addition, she is survived by sisters Dorothy Lee Crocker of Baton Rouge and Lenoir Booth of Prentiss. "Mama" is also survived by her grandchildren, Bailey Nicole Matthews and Mallory Margaret Matthews of Clarksdale, and Katherine Leigh Bush and Kenneth Bradley Bush III (Trey) of Hernando.
Visitation is Wednesday, December 11, 2019, at Clarksdale United Methodist Church, with funeral services to follow at Burial will be at Oakridge Cemetery in Clarksdale. Meredith-Nowell Funeral Home is handling the arrangements.
In lieu of flowers, memorials or donations may be made to Clarksdale United Methodist Church or to St. Jude Children's Research Hospital.
<![if !vml]>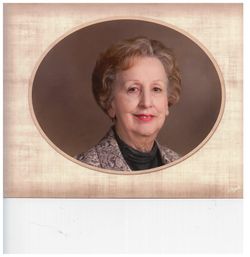 <![endif]>