Shirley Ann (Sharp) Josey was born to E and Flossie (Love) Sharp on April 10, 1941 on a farm near Elgin, OK. She attended Elgin Schools. On May 22, 1959 she married Anthony (Tony) Eugene Josey, Sr in Lawton, OK. They lived there one month before moving to Apache. Tony joined the Navy in 1959 and moved to Washington, D.C., Norfolk, VA and then home to Apache in 1963. She worked for the Apache Public Schools as a teacher's aide, then as a librarian until she retired. She retired partly due to having too many ornery grandsons at one time in school! (Haha!!) She was a homemaker, loved quilting and donated many quilts to held with local fundraisers. She also enjoyed watching hummingbirds and her flower gardens.
Shirley was a member of the First Baptist Church of Apache after moving her membership from First Baptist Church of Elgin. She spent lots of time attending her grandkids sporting events and helping when needed. She was a loving and ornery wife, mother and grandmother. Her grandkids and great-grandkids were her world.
She is survived by her husband, Tony, of the home; her children: Kimberly and husband Gene Marroquin of Apache; Anthony (Tony) Jr and wife Diana Josey of Apache; Billy and wife Kelley Josey of Oologah; Ricky Josey of Apache; Jamie and husband John Bybee of Apache and Shawn and wife Melissa Josey of Apache; grandkids: Ethan and Jesse Marroquin; Justin and Cristina Marroquin; Julia Marroquin; Sissy Marroquin; Greg Josey; Miranda and Phillip McGhee; Justin Josey; Felicia and Sean Berno; Josh Josey; Layne and Avery Josey; Matt Josey; Shelby Josey; Larissa Josey; Cameron and Jessica Josey; Mia Josey; Zoe Josey; Joshua and Taylor Bybee; Jacob Bybee, Katie Bare ; Dalton and Main Josey; Tanner and Nicole Josey and Sarah Josey; great-grandkids: Angel and Bella Marroquin; Braxton Marroquin; Khloe, Khayren and Khynlee Josey; Evan, Avery and Devyn Berno; Braxton and Zaylee Josey; Kodee and Kallee Josey; Shelby Dean and Sawyer Josey; Rylan and Jayden Josey; Kendall Josey; and Bayle Josey; sister, Linda and Charles Langford of Elgin and numerous nieces, nephews, extended family members and friends.
<![if !vml]>

<![endif]><![if !vml]>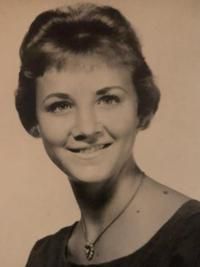 <![endif]>