Ruth Courtney Josey Bell, 87, widow of Claude Caldwell Bell, died on Tuesday, Sept. 2, 2014, at her home.
Born in Lee County, she was a daughter of the late Charles Wilson Josey Sr. and Jessie Lee Brown Josey. Mrs. Bell was a lifelong member of Bethany Baptist Church. She attended the Julliard School of Music in New York City; graduated from Limestone College in 1948 with a degree in music; and received her master's degree from Coker College. She taught music at Lamar High School. She retired from the Sumter County Department of Social Services as district director. Mrs. Bell was an active board member of Central Carolina Technical College. She was a member of Daughters of the American Revolution, United Daughters of the Confederacy and the Bishopville Music Club. She was a former member of the Order of the Eastern Star and the Lee County Arts Council Board.
Survivors include two sisters, Naomi J. Gammon of Sumter and Abbie J. Harrelson (Harvey) of Chapin; and a number of nieces and nephews.
She was preceded in death by her daughter, Courtney Ann Bell; two brothers, Dendy Kyle Josey and Charles Wilson "Wofford" Josey Jr.; and two sisters, Juanita Esther DuBose and Jessie Wilson Hill.
Funeral services will be held at on Monday at Bethany Baptist Church with the Rev. Dr. James Chandler officiating. Burial will be in the church cemetery.
The family will receive friends from to on Sunday at Hancock-Elmore-Hill Funeral Home.
Memorials may be made to the Bethany Baptist Church Cemetery Fund, c/o Fred Sandy, 2600 Racoon Road, Mayesville, SC 29104.
Hancock-Elmore-Hill Funeral Home of Bishopville is in charge of the arrangements.
<![if !vml]>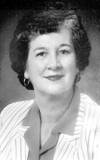 <![endif]>