CAROLINA BEACH — Carol Josey Bridges, age 68, died on March 27, 2022. Carol leaves behind her husband of 45 years, Tom Bridges; her son and daughter-in-law, Tommy and Jen Bridges; her daughter and son-in-law, Josey and John Snyder; and grandchildren, Virginia, Jack, and Caroline Snyder. She is preceded in death by her son, Jacob Michael Bridges; father, Henry Albert Josey; mother, Nancy Wharton Josey; and brother, Jacob Sinkler Josey.
Carol was born in Amityville, Long Island, New York, and was delighted if anyone asked her where she was born. She would then claim to be a "Yankee" with mischief in her eyes. People usually looked at her questioningly since she definitely had no New York accent. She would then quickly add that she probably had "Yankee blood" because her mother received a blood transfusion in the hospital. In truth, she lived there 10 days before her family returned home. Most of her early years were spent in Danville, Virginia; Montgomery, Alabama; and Columbus, Georgia. Carol was a life-long Methodist (mostly), the granddaughter and great-granddaughter of two Methodist preachers, and she loved to sing. She had fond memories of her time as a teenager and college student with The New Creation, A New Mind, and Epworth by the Sea, formative groups and places where she sang and experienced God's love in community. Her favorite place at church was always choir, an activity she and Tom enjoyed together.
She spent her working years in Charlotte, NC, where she taught kindergarten, first, and second grade; and then retired to Carolina Beach, where she lived 805 steps from the beach. (Yes, she counted them herself!) In her retirement, Carol enjoyed volunteering with the Federal Point Help Center, Pleasure Island Sea Turtle Project, and the Island Women Literacy Committee, where she helped bring seven "Little Free Libraries" to the island. As a former literacy specialist, Carol loved maintaining the Little Free Library in her yard and especially focused on quality children's books for the children who passed by. Carol loved fiercely. Anyone who came into her orbit felt her genuine warmth and generosity. She knew how to make people feel special and gave the best of herself to her friends and family.
A service, officiated by the Rev. Shawn Blackwelder and Gayle Tabor, will be held at St. Paul's United Methodist Church (300 Harper Avenue, Carolina Beach, NC 28428) on Friday, April 1, at .
<![if !vml]>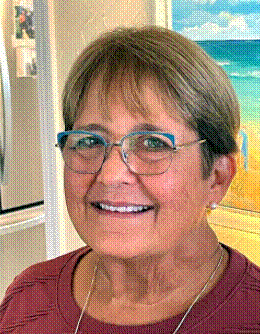 <![endif]>