Mary Beth Josey
October 10, 1926 - December 22, 2020
Byromville, Georgia - Mary Beth Collier Josey, age 94, of Byromville, Georgia died Tuesday, December 22, 2020, at the home of her daughter in Marshallville.
Born in Montezuma, Georgia, on October 10, 1926, she was the daughter of Joseph Taylor Collier and Lorena Lewis Collier. Mary Beth graduated from Montezuma High School and worked briefly at a Montezuma drug store before marrying James Madison Josey, Jr. of Byromville. The Josey's celebrated fifty-six years of marriage before his death in 2001.
Mary Beth worked in bookkeeping for J. M. Josey and Son Grocery in Byromville, supporting her husband in business and life. She was the oldest living member of Byromville United Methodist Church, where she participated in the Ladies Sunday School Class and Edith Elrod Circle. Mary Beth was also a longtime member of the Byromville Woman's Club.
She will be remembered as a proper Southern lady, full of beauty and manners and grace. Mary Beth was the anchor for the family she loved. She was preceded in death by her parents, her husband, and her brother, Joseph Lewis "Bud" Collier.
Survivors include her daughters: Linda Patricia "Pat" Josey Barrett (Roy) of Marshallville and Joy Josey Lanning (Dennis) of Byromville. Ma's grandchildren are Tony Barrett, Julie Barrett Rackley (Vassar), and Richard Barrett (Tonia), all of Marshallville, and Paul Lanning (Nina) of Glennville. Great-grandchildren are Ethan Lamberth, Drew Barrett, Josey Rackley, Melanie Lanning, and Isabella Lanning.
Graveside services will be held at Swearingen Cemetery in Byromville on Saturday, December 26, 2020, at and Rev. Dennis Lanning will officiate. Due to Covid-19, face coverings are encouraged and please practice social distancing. No hugging allowed.
She will lie in state from until on Thursday and on Saturday from until at the Funeral Home.
In lieu of flowers, memorial donations can be made to Byromville United Methodist Church Memorial Fund, P.O. Box 147, Byromville, Georgia 31007.

Watson-Mathews Funeral Home in Montezuma, GA is in charge of the arrangements.
<![if !vml]>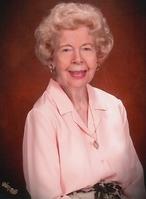 <![endif]>