<![if !vml]>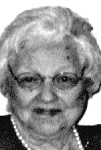 <![endif]>Martha H. Josey

SALISBURY - Martha Hamilton Josey, 88 of Rockwell, died Friday, May 2, 2008, at Rowan Regional Medical Center.

She was born January 6, 1920, in Rowan County, she was the daughter of the late Samuel J. and Mollie Lyerly Hamilton. Mrs. Josey was educated in the Granite Quarry Schools.

Mrs. Josey was employed for Cannon Mills and was a homemaker. She was a member of Kingdom Hall Jehovah's Witness of Kannapolis.

She was preceded in death by her husband, Jerry Eugene Josey, Sr. on March 5, 1993; a daughter, Shirley Jean Rice on Feb. 10, 1984; and numerous brothers; and sisters.

Survivors include her children; Barbara Gibson, Pearl Blackwell both of Salisbury, Jerry Eugene "Pete" Josey, Jr. and wife Linda of Mooresville, Cathy Horne and husband Dewey of Kannapolis, Pam Gardner and husband Rick of McConnells, SC, Lori Beaver and husband Joey of Salisbury; sister, Pat Fraley of Faith; grandchildren, Kelly Rice, Cindi Sutherland, Lisa Oliphant, Gina Josey, Gidget Horne, Tonya Sikes, Shannon Josey, Tabitha Horne Eakin, Rebecca Moore, Jeremy Horne, Caleb Horne and Matthew Moore; 15 great-grandchildren, and one great great-grandchild.

Service: Funeral services will be conducted Monday at Summersett Memorial Chapel with Brother Charles King officiating. Interment will follow at Rowan Memorial Park.

Visitation: The family will receive friends from Monday at Summersett Funeral Home.

The family would like to give a special thanks to the caregivers of the Meadows of Rockwell and the nurses 1 West at Rowan Regional Medical Center.
Published in the Salisbury Post on 5/4/2008.