Obituary of Lois Irene Boyd Josey 1939 – 22 Jul 2022

LOIS JOSEY (BOYD) SPRY HARBOUR
It is with saddened hearts that we announce the passing of our mom, Lois Josey, at Bissett Court, Dartmouth on July 22,2022 at the age of 82.
Lois was born and raised in Belmont on a farm. She fell in love with George, got married and moved to George's home in Spry Harbour where she has lived for the past 63 years. Living on the eastern shore is where she acquired her love of fish. Lois and George were happily married for 52 years until his passing in 2010. She raised 6 children, often on her own as George's job often took him away from home. She learned to fix almost anything and to do what needed to be done for her family. Lois was an incredibly strong, independent and determined woman with her family always in sight. She was every child's dream mom. In every neighbourhood there is one house where children like to gather, and that was mom's house. She was always there to cheer us on or pick us up no matter what we did. She was well known for her knitting and she also enjoyed sewing, quilting, crocheting, making chocolates and crafts. She was active in the community, being involved in such things as 4-H, school activities, she had over 50 years in the church ACW and lending a hand to anyone that needed it. She enjoyed traveling especially in the later years with dad, driving across Canada, and her shopping trips and bus tours. She enjoyed many activities such as bowling, card parties, reading and picking berries in season. As she aged, she took great pleasure in observing and feeding the birds and animals in her yard, especially the hummingbirds. She had an awesome sense of humor, always remembering a joke to go with the moment. She had an iron will and the last word which she demonstrated at the very end . She was predeceased by her husband, the late George Josey Sr.. She is survived by her children Frances (Terry) Davison, George (Judy), Melanie (Craig) Rutledge, Mona (Kevin) Hartling, Randy (Pam) and Frank (Joy). Also 9 grandchildren and 8 great-grandchildren. she is also survived by one brother and many in-laws, nieces and nephews.
<![if !vml]>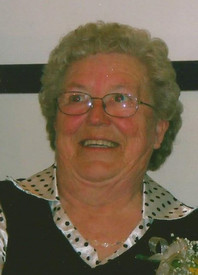 <![endif]>