Linda Gainey Josey, 71, of Seminole County, passed away Tuesday, October 15, 2019.
The funeral service will be held at on Saturday, October 19, 2019 at Ivey Funeral Home Chapel with Rev. Ellis Hardwick, Pastor Johnny Shepard and Rev. Marty Brock officiating. Interment will follow at Gainey Cemetery with Gene Key, Danny Scott, Mark West, Denny Brock, Christopher Priest, Bobby Pless, Lonnie Alday and Stanley Harrell serving as active pallbearers. Climax High School Class of 1965 will serve as honorary pallbearers.
The family will receive friends from to on Friday, October 18, 2019 at Ivey Funeral Home. Online visitors may sign the guest register at www.iveyfuneral.com. Memorial contributions may be made to: American Cancer Society, P.O. Box 22478, Oklahoma City, OK 73123 or Gainey Cemetery Fund, C/O Robert Gainey, 519 Stephens Road, Cairo, GA 39828.
Linda Nell Gainey was born December 2, 1947 in Cairo, GA, the daughter of Council Haywood Gainey and Ella Veronica Brock Gainey. She was a graduate of Climax High School, Class of 1965 and Tallahassee Community College with a certificate in cosmetology. Linda married Ray Josey in 1965 and loved him so much she cut his hair for 54 years. Linda retired from First Port City Bank with 32 years of service in the banking industry. She was a faithful member and Sunday School teacher at Reynoldsville Church of God.
Although Linda was raised on a farm and knew a lot about fishing, she still dressed to the nines with every hair in place and lipstick perfect. This farm girl was a Climax High School cheerleader and pageant queen back in the day. She enjoyed shopping, singing, playing the tambourine and cooking but not more than organizing a family gathering. She worked hard and cut-up with you at the same time. (Pound cakes were her signature items at gatherings.) Linda Josey was also the model of customer service. She met you at the door willing to tackle any banking issue you may have but not before she asked about your family. Linda knew banking and made it her business to know you. Her sunny disposition and positive attitude even on the hardest of days was quite contagious. Linda loved…her family, her friends, her bank people, her customers and you, if you let her.
Survivors include her husband of 54 years, Ray E. Josey, Sr. of Iron City, GA; her children, Candy Josey Hawkins and her husband, Mitch, of Donalsonville, GA and Ray E. Josey, Jr. of Iron City, GA; her sisters, Loraine G. Pless of Gainesville, GA, Diane G. DeMattei of Irmo, SC, Angela G. Chason of Rockmart, GA, Terrie G. Priest of Bainbridge, GA; her grandchildren, Amber Veronica and Ashley Kaye; her great-grandchild, Jacey Kaye; and her fur babies, Bailey and Bo. In addition to her parents, Linda was preceded in death by her siblings, Durant, Nannette, William Henry and John Carroll.
<![if !vml]>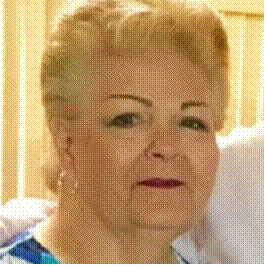 <![endif]>