September 5, 2013
NIAGARA FALLS —
John B. Jackson, Sr. of Niagara Falls born on September 15, 1933 passed away September 4, 2013 at Roswell Park Hospital after a brief illness. He was the son of the late Albert and Grace Jackson.
He leaves behind his devoted wife of 59 years, Mary (Bennett) Jackson; daughter Mary (Jerry) Woodring; two sons, John B. Jackson, Jr. and Richard G. (Angela) Jackson; six grandchildren, six great-grandchildren; sister, Marion (Bud) Josey; deceased brother, Albert (Dorothy) Jackson.
John attended local schools and graduated from Niagara Falls High School. John worked for on the Power Authority until completed. Was a roofer for 20 years when he purchased West Roofing/ Aluminum Company from 1973 to 2009. The business is still operating as John Jackson and Dale Canning Construction Company. John was an Honorary Niagara County Sheriff for 35 years. John enjoyed all sports especially fishing and horses. He was a kind and generous man who always helped others. He was devoted to his family.
There will be no visitation. In lieu of flowers, memorials may be made to Roswell Park Hospital, PO Box 631, Buffalo, NY 1420.
<![if !vml]>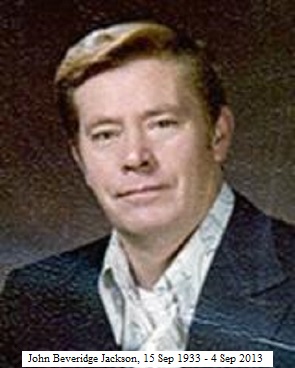 <![endif]>