Irene Johnson Josey, 78, of Palatka, passed away Tuesday, Sept. 17, 2013, at Haven Hospice Roberts Care Center. She was born in Reading, Berkes County, England and had been a resident of Palatka for the past 10 years, coming from St. Augustine.
She was an excellent homemaker and a member of the Church of England.
She was preceded in death by three brothers, Edward, George and William "Bill" Johnson and a sister, Phyllis Johnson.
Survivors include her husband of 57 years, Ruben Josey of East Palatka; two sons and daughters-in-law, Cullie and Judy Josey of Hancock, Maine and Ruben James and Xinli "Alice" Josey of Crescent City; one daughter, Zelda Young of New Port Ritchey; three sisters, Beatrice, Nora and Betty, all of Reading, England; three grandchildren, Shawn Volte of New Port Ritchey, Ethan Young of Camp Lejeune, N.C., and Eurie Jim Josey of Toronto, Canada; and several nieces and nephews.
Funeral services were entrusted to Masters Funeral Home, Palatka.
Published in St. Augustine Record on September 26, 2013
<![if !vml]>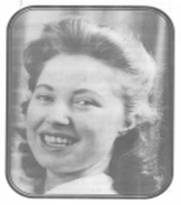 <![endif]>