Elva Marie Johnson Josey Johnston, a wonderful mother, friend to all, and one of the great beauties of her era, died Saturday, the 23rd of February 2013, at the age of 96.
Elva was born on the 21st of May 1916 to Robert Douglas Johnson and Carolyn Elizabeth (Carrie Bess) McConnico in Corsicana, Texas. Her father was the youngest of 9 children, all of whom grew up in Corsicana. As a boy, her father had done many interesting things including saving his friend, Gus Wortham, from drowning according to Wortham. Her mother, a local beauty who was the youngest of three sisters and was a great-granddaughter of Colonel James Butler Bonham of Alamo fame.
The family moved in the 1920s to Houston where they resided on Caroline Boulevard. With her middle sister, Dorothy (Dor) and her best friend Catherine (Cat) Crain, Elva was a mainstay in the Caroline Street Gang. She attended Albert Sydney Johnston Junior High where she was an honor student and May Fete Queen. At San Jacinto High School, she was elected Most Popular Girl by the students in 1932, 1933 and 1934. Her classmates included Walter Cronkite, Denton Cooley (whom she taught how to dance) and her future husband, Jack Josey.
At the University of Texas, Austin, Elva majored in English, was a Pi Beta Phi, Phi Eta Sigma, and runner up to Nellie Brill (Connally) for Sweetheart of the University.
Elva married her long time sweetheart, Jack Josey, on the 2nd of June 1939 at St. Paul's Methodist Church in Houston. The couple resided in Houston on Ella Lee Lane until the outbreak of World War II. On the 22nd of April 1941, their first child, Lenoir Moody Josey II was born and named for Jack's father. Jack enlisted in the US Navy the day after Pearl Harbor was bombed. On the 17th of January 1942, Elva and Lenoir followed Jack to Washington where Jack was assigned duty. Becoming pregnant with her second child, Elva took the train back to Houston with her son in September, 1942. They soon moved to the Wilshire Village Apartments at 5906 Dunlavy, Apartment 4, and on the 22nd of April 1943, a daughter, Carolyn was born. Several months later, Elva moved with her two children to 4324 Byron in Miami, Florida where Jack had moved to join his destroyer escort "Melvin R Nawman" which was being outfitted for combat. Upon completion, Jack departed for a two year stay fighting in the Pacific. With Jack oversees, the two children and Elva happily spent the remainder of the war years at the Wilshire Village Apartments. Letters from Jack in the Pacific were an exciting and cherished highlight of those years. Parts of the letters were written in secret code to let Elva know where her husband's ship was fighting.
Upon completion of World War II and her war hero's return to Houston, the young couple and two children moved to a 5 acre residence at 4 Post Oak Circle outside the city limits of Houston where The Houstonian is now located. Bricks bought from the destruction of the old Harris County Courthouse were used to cover the existing residence which became their happy home for more than 20 years. On the 12th of March 1950, a third child, Robert Anthony Josey II was born and named for Jack's great Uncle.
The 1950s and 1960s were spent being a busy mother and wife with almost yearly trips to Europe where Elva was invariably thought to be Vivien Leigh and later the Duchess of Windsor. With the children grown, the Post Oak house proved too large and Jack and Elva moved to Fontainbleu in the late 1970s. In 1982, Elva was devastated by the loss of Jack, but she rebounded and married Fred Johnston of San Antonio. They spent happy years together in Houston, San Antonio and Comfort before Fred's death.
Elva was very active in the Houston community. She and Jack were founding members of St. Luke's Methodist Church. She was an active member of The Junior League of Houston, the River Oaks Garden Club and River Oaks Country Club.
Elva's last years were happily spent with her treasured companions, Inez Hawkins and Frankie Copeland. She was visited often by her children, grandchildren, great-grandchildren, relatives and friends. She was wonderfully cared for by Inez and Frankie, plus her lifelong friend, Dr. Denton Cooley, and Dr. James T. Willerson, John West, Brent Mills and Mike Rafferty. The family is deeply grateful to all those who touched her life and made it so special. She loved all her many friends and family and maintained a wonderful sense of humor, loved dancing and flowers and had a beautiful smile all her life.
She is survived by three children, Lenoir and his wife Susan, Carolyn, and her husband John, Bobby and his wife Pamela, 8 grandchildren and numerous great-grandchildren and many nieces and nephews.
Friends are cordially invited to gather with the family and share remembrances of Elva during a reception from in the afternoon until half-past in the evening on Tuesday, the 5th of March, at the River Oaks Country Club, 1600 River Oaks Boulevard in Houston. A uniformed steward from Geo. H. Lewis & Sons is to be positioned in the entrance hall so as to direct guests to the designated venue.
The family previously gathered for a private service of interment at Memorial Oaks Cemetery in Houston, where the Rev. Dr. Laurens A. Hall, Rector of The Church of St. John the Divine, officiated.

<![if !vml]>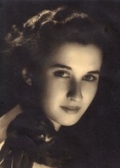 <![endif]>