<![if !vml]>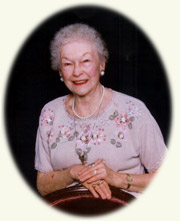 <![endif]>Elsie Viola (Burgess) Josey-Ferguson, age 92, of Tavares, FL, died Sunday, October 2, 2005 at her home surrounded by her loving family.

She was born in the Town of Lewiston on June 26, 1913, the daughter of the late William H. and Laura Belle [ Guinther ] Burgess, and raised in Niagara Falls, NY. Elsie graduated from North Junior High School and later Niagara Falls High School in 1931. She was married on September 4, 1932 to Jesse E. Josey Sr. , Master of Niagara River Lodge 785, in 1952, he predeceased her on May 18, 1976.

She was a member of the Eastern Star Chapter #355 for over 50 years, and a member of the First Christian Church on Niagara Avenue in Niagara Falls since 1927 and her parents had her on The Cradle Roll in 1915. Also, she was an associate member of Union Congregational Church in Tavares, FL. She married Clyde H. Ferguson in November of 1977 and they were married for 21 years prior to his death on April 17, 1999.

Surviving are three sons, Jesse "Bud" E. [ Marion] Josey Jr., of Tavares, FL.; Jack L. Josey, of Deerfield Beach, FL; and William A. [ Juanita] Josey, of Niagara Falls, NY; daughter-in-law, Virginia Josey, of Lewiston, NY; a daughter, Norma L. Josey-Camel [ Marvin] of Tavares, FL; a sister Nolita "Fern" Harding, of Highland Ranch, GA; 12 grandchildren, 10 great grandchildren, and 2 great great grandchildren.

She was predeceased by her brother Norman W. Burgess.

The family will be present from 2 - 4 & 7 - 9 PM, Friday, at the RHONEY FUNERAL HOME, NIAGARA FALLS, 1124 Ontario Avenue, where funeral services will be held Saturday, October 8th at 10:20 AM, with Rev. Jason Jones officiating. Burial will be in Riverdale Cemetery, Lewiston, NY.

For directions to he funeral home, click the link above.