Dorothy Jackson, loving wife of the late Albert Jackson, Jr., caring mother, sister and grandmother passed away Friday, July 11, 2014 under the care of her family and Niagara Hospice after a battle with cancer.

Born in Niagara Falls, New York on April 27, 1936, she was the daughter of the late Bill and Luella Burridge. She was graduated from the former LaSalle Jr/ Sr High School. Mrs. Jackson was employed by the Hooker Chemical Company and retired from the Lewiston Porter Central School District in 1996, working 15 years in the guidance office.

Dorothy was a longtime member of Riverside Presbyterian Church. She was an active volunteer for many years at Mount Saint Mary's Hospital and was the queen mother of the local Red Hatters Society. She was also very active organizing her high school reunions and other various social events. When she wasn't busy working or organizing social events, she enjoyed garage sales, playing cards, gathering with friends and visiting family. Touching many hearts, she was outgoing, always wearing a smile and had a positive attitude which was very contagious.

She is survived by her sister, Mary Bauer; three children, Linda Kreps; Brian Jackson and Carol (Dave) Hall; four grandchildren which she had an active role in caring for; three great grandchildren and several nieces and nephews.

Friends may call Monday from 2-4, 7-9 PM in the LANE FUNERAL HOME, INC., 8622 Buffalo Avenue, Niagara Falls. Funeral services will be held Tuesday at Riverside Presbyterian Church, 815 – 84th Street, Niagara Falls. Please Assemble at church. The interment will be private in Memorial Park Cemetery, Lewiston. In lieu of flowers, memorials, if desired, may be made to the church or to Niagara Hospice, Inc., 4675 Sunset Drive Lockport, NY 14094.
<![if !vml]>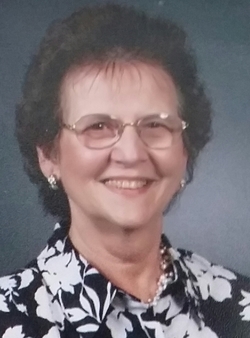 <![endif]>