Dianna Riffert Josey
<![if !vml]>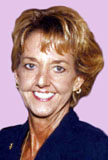 <![endif]>
Dianna Riffert Josey, 58, of Evansville, died March 31, 2004, at Indiana University Hospital in Indianapolis.
Dianna is survived by her husband of 11 years, Lanny Josey of Evansville; daughter, Rhonda Wagner and husband, Barry of Newburgh; daughter, Roxann Jones and husband, Sean of Evansville; son, Ron Riffert and wife, Sara of Evansville; stepson, Mark Josey and wife, Becky of Newburgh; son, Gregg Josey and Kim Reisinger of Evansville; mother, Marie Beshears of Evansville; 8 grandchildren, Kelsie, Ty, Makenzi, Kayla, Miranda, Kason, Baron and Kaleb; brothers, Walter, Glenn and Michael Beshears; and many nieces and nephews.
She was preceded in death by her father, James O. Beshears; daughter, Angela Riffert; brothers, James and John Beshears.
Dianna enjoyed riding Harley-Davidson motorcycles with her husband. She also loved the outdoors; her dog, Belle; cat, Fritz; cooking for her family and spoiling her grandchildren. She was an avid bowler and secretary of her River City Recreation Bowling League. Dianna served as a dental assistant for more than 20 years.
Services Saturday, April 3, 2004, at Alexander East Chapel, officiated by Rev. Robert Esters. Burial will be in Sunset Memorial Park Cemetery. Friends may call today, April 2, from to and Saturday, April 3, from to service time at Alexander East Chapel. Memorial contributions may be made to VFW Post No. 1114 or American Cancer Society. Condolences may be made online at www.mem.com. Arrangements by Alexander East Chapel, 2115 Lincoln Avenue, Evansville, (812) 476-1351.
Born 4 Oct 1945