Dolores Edna Pye Josey
1 Jan 1930 – 28 Aug 2017
On Monday 28 August, Dolores Edna Pye Josey passed away in peace and repose with her husband, Alden, and daughter, Melissa, at the bedside holding her hands. Born on New Years Day in 1930, she was approaching 88 years of age. A resident of Wilmington for over 59 years, Dolores was a respected creative artist, teacher and performer active in groups devoted to painting, ceramics, modern dance and yoga throughout northern Delaware and beyond.
She attended the University of New Mexico for two years before transferring her studies to the University of Illinois where she met her husband-to-be and from which she received her Bachelor of Fine Arts degree in 1952. She held the Master of Fine Arts degree in Painting from the University of Delaware and the Master's Degree in Dance Education from the Laban Centre in London, England.
In addition to these fields of creative activity, Dolores was the author of a novel of the Old West, "Crossing Boundaries," due for publication in September. She was much gratified to see shortly before her death the final proof of the book with its cover a replica of one of her watercolors of the New Mexico desert.
Dolores leaves to grieve her passing her husband of 64 years, Alden; two daughters, Melissa, at home, and Alexandra and her husband, James Sulecki; grandson Timothy Sulecki and wife Crystal, and great-grandson Alden Thomas Sulecki (all of Naples, Florida). For the nurture of her spiritual life within community, she, along with her husband and daughter Melissa, was a member of the Religious Society of Friends (Quakers) with membership in the Centre Monthly Meeting in Centerville, Delaware
Her gifts and compulsion to make new and beautiful things led Dolores to an enthusiastic engagement with her garden where each year she designed and constructed beautiful impressionistic areas of color and living structure. Dolores had a profound emotional link with the living world of plants and people. She was an active supporter of causes that sought to repair social ills and inequalities with a special interest and concern for Native American peoples in their long and tragic interaction with our own culture. Her passing will be noted in many places, not least at home, with a deep regret and fond remembrance of her intensely humane spirit.
She is gone from the world now, but her presence and her effect will remain fragrant and lasting in the memory of those who knew and loved her. A Memorial Meeting for Worship will be held at the Friend's Meeting House at 311 Center Meeting Rd., Greenville, DE 19807 at on Saturday, 23 September, with a light luncheon to follow.
Published in The News Journal on Sept. 3, 2017
<![if !vml]>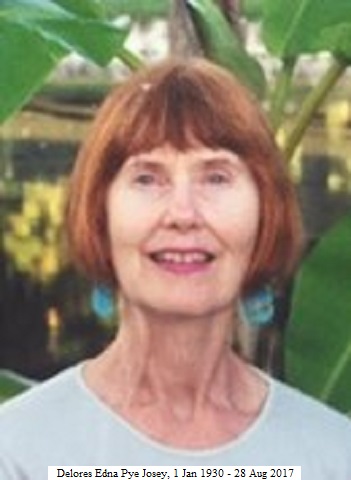 <![endif]>