Alden Dwayne Josey
On Friday February 4th 2022, Alden Dwayne Josey peacefully transitioned to his next adventure. He was at home with both of his daughters, Alexandra and Melissa, holding his hands. Born in Harrisburg, Illinois on August 14, 1930, he was approaching 92 years of age.
Alden graduated from the University of Illinois in 1953, earning a Batchelor of Science degree in Chemistry. Following that, he served in the United States Army for two years as a chemist until leaving in 1954 with the rank of Corporal, and retaining status in the Army Reserves through 1959. During that time, he married the love of his life, Dolores, whom he had met at the University of Illinois. They were married at the NBC Studios in New York City on the, then popular, Bride & Groom television show. In 1954, he and Dolores moved to Ithaca, New York, where he had been awarded a graduate fellowship to study organic chemistry at Cornell University, where he graduated in 1958 with honors and a PhD in Organic Chemistry. He and Dolores started their family in Ithaca with the birth of their first daughter, Alexandra in 1957.
He first came to Wilmington late in 1958, to take a research chemist position at the DuPont Experimental Station. His second daughter, Melissa, was born in 1959. During his 27 year career as an Organic Chemist for the DuPont Company, he worked on many projects but one of his most significant was to develop a process for making Agricultural Herbicides for use in commercial farming. He retired as a research manager with 23 published technical papers and 7 patents.
In 1985, Alden accepted an offer from DuPont to retire early, which gave him the opportunity to pursue his interest in Jungian Psychology. He and his wife Dolores left the United States and moved to Europe, he to Switzerland, where he earned a doctorate at the Carl Jung Institute for Analytical Psychology in Kusnacht, and she to London, where she earned a masters degree in Dance Education at the Laban Institute for Movement Studies. Upon graduating in 1989, they returned to Wilmington and Alden entered private practice where he worked with clients for 25 yrs. At age 87, following the passing of his beloved Dolores, Alden retired from active practice but continued working in the community; with a small group in psychological exploration and in teaching in the Jungian Institutes in Philadelphia and New York, and to lecture widely in this country and abroad to a variety of audiences. He was a member of the Philadelphia Association of Jungian Analysts. His love of travel and experience took him and his family to many destinations around the globe. He and Dolores travelled extensively across the U.S. with particular interest in the South Western states.
Alden leaves to greatly mourn his loss both daughters, Alexandra Josey Sulecki (James) of Naples, FL and Melissa Grace Josey of Wilmington. In addition, he leaves a grandson, Timothy Alden Sulecki (Crystal) and two great-grandsons, Alden and Aeson Sulecki, all of Naples, FL. Alden and his immediate family were long-time members of the Religious Society of Friends (Quakers) with membership in the Centre Monthly Meeting in Centerville, Delaware, where he leaves many friends to grieve his loss.
Alden was a highly intelligent, sensitive, loving man, and he helped many people during his long and productive life. He was an accomplished musician, playing the piano and coronet and could do anything he set his mind to do, including creating stained glass art, and taking beautiful photographs. He was an active supporter of causes that sought to repair social ills and poverty, with a special interest and concern for Native American peoples in their long and tragic interaction with our own culture.
While he is gone from our physical lives, we his family, and so many others, will treasure our memories of his wise, gentle and, caring spirit that will remain with us forever. We will see you in the Universe Dad! Love, Alex and Melissa.
A Celebration of Alden's life will be planned for the Spring at the Centre Friend's Meeting House. If you wish to be notified, please send your contact information to: asulecki12@gmail.com.
<![if !vml]>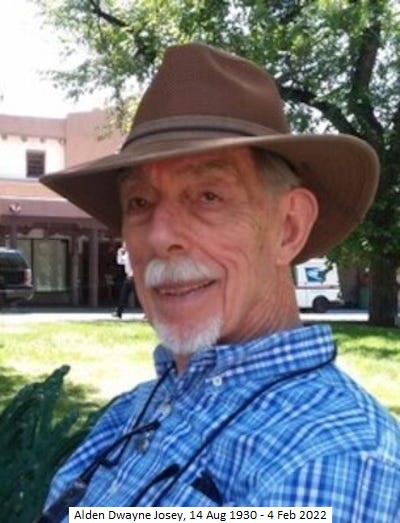 <![endif]>