Alda Griffin-Josey
Alda Louise Griffin-Josey, 76, of Gordonville died Saturday, March 14, 2009, at her home.
She was born July 3, 1932, in Lutesville, Mo., daughter of Lewis Emmanuel and Edna Josephine Johnson Mansker. She first married Paul Griffin in 1967. He died in 1993. She later married Kenneth Josey.
Louise was a truck driver.
Survivors include her husband, Kenneth of Coffeeville, Miss.; a stepson, Paul E. Griffin Jr. of Jackson; a daughter, Bonnie Bishop of Gordonville; two sisters, Lena VanGennip and Mary Parson of Marble Hill, Mo.; a granddaughter; and four great-grandchildren.
She was preceded in death by her parents, two brothers and four sisters.
Visitation will be from to today at Liley Funeral Home in Marble Hill.
The funeral will be at Wednesday at the funeral home, with the Rev. Dale Huff officiating. Burial will be in Bollinger County Memorial Park Cemetery near Marble Hill.
<![if !vml]>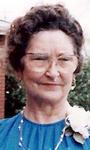 <![endif]>