Hi, we are Priscilla Knight and Melinda Haynes, your hosts for the
2005 House of Jossey-Josey National Reunion. We began planning
this reunion before the 2003 reunion ended, and we can't wait for
you to get here!
Be sure to arrive in time for our first gathering, our dinner
Friday evening. Since we will be halfway between Mobile and
New Orleans, both claiming to be the home of Mardi Gras,
we will have a Mardi Gras theme for our big banquet on Saturday
night. You know that will be a fun evening!
There will be prizes and surprises all weekend long, and a
live auction Saturday night. Start thinking now about a "creative"
item to bring for the Auction.
We are excited about the Gulf Hills Hotel and Conference Center
in Ocean Springs, MS, where we will gather and all of our events will be held. Gulf Hills is located on an 18 hole championship golf course with 52 spacious rooms and suites. Sitting on the balcony looking out across the golf course or the peaceful bay, you will not believe that you are just minutes from the casino action of Biloxi, just across the Bay Bridge. Because of its privacy and charm, Gulf Hills was once a favorite hide-away for Al Capone and his Mafia buddies, and Elvis hung out here when he visited his girlfriend in Biloxi. (You might want to stay in one of the Love Me Tender suites!)
If casinos that never close are not your style, the Ocean Springs/Biloxi area has many attractions to visit while you are here, including beautiful Beauvoir, the home of Jefferson Davis; deep sea fishing; fishing off the sea wall behind the hotel; charter boats; public beach and 26 miles of boardwalk on the Gulf; parks and attractions for children; Ocean Springs Harbor, the Gulf Coast's only natural harbor; gorgeous old homes and buildings in Colonial Revival, Queen Anne, Victorian, and other architectural styles from the 1800s and 1900s, as well as Creole and Biloxi style cottages; Shearwater Pottery, founded in 1928 by Peter Anderson and still operated by his son Jim; the Walter Anderson Museum of Art (murals by Mr. Anderson in the Community Center of Ocean Springs are now appraised at over a million dollars); beautiful old churches from the 1800s & 1900s; Fort Maurepas, a replica of the first French fort built in 1699 as the capital of the Louisiana Colony; a Vietnam Memorial Wall for Mississippi soldiers; the TatoNut Shop; and many wonderful parks and restaurants.
The laid-back Gulf coast beauty of Ocean Springs has attracted artists, poets, and architects for generations. Be sure to spend some time visiting the art galleries and the antique and specialty shops of this small town while you are here. Or plan to relax and get to know more of your Jossey-Josey kin while lounging by the pool or playing tennis on one of the 8 tennis courts at the hotel. We will have the run of the place for our Reunion weekend! Catch up with Bud and Marion in the hospitality suite and enjoy the free deluxe continental breakfast each morning.
Spread the word! Call your Jossey/Josey relatives and tell them to meet you at the Reunion. If you would like to volunteer to help, we have big jobs and little jobs available, all of which are going to be fun jobs. Serving as a volunteer is a great way to meet other family members. Sign up for the Welcome Committee to greet family members upon arrival or at events; the Decorating Committee; Registration Committee; or the Dinner Committee to help Friday or Saturday night as a host or helper. If you would like to bring drinks or food for the Hospitality Suite, we guarantee that your contribution will be appreciated!
GO! Get to the phone NOW and call (866) 875-4211 to make
your reservations! We have reserved 30 rooms at a special rate
of $89 per night, but you need to make your reservations
BEFORE MARCH 22, 2005, to qualify for the HOJJ rate.
Gulf Hills has undergone an extensive renovation in the past
few years and all rooms now include a microwave, refrigerator,
and coffee-maker. Handicap facilities are also available.
If you need RV or camping facilities, there are many in the Biloxi
area, including Camp Journey's End (888) 288-8449 near
Ocean Springs on Highway 57, just ¼ mile off I-10.
See you April 22nd!
Priscilla Josey Knight (228) 497-4356
Melinda Josey Haynes (601) 947-3062
The Krewe of the House ofJossey-Josey
cordially invites you to attend our Mardi Gras Krewe Banquet Saturday night, April 23, 2005.
The Krewe will present a mini-parade of royalty with beads and throws during the social hour and surprises throughout the evening. Wear your Mardi Gras costume (keep it clean - we are a family organization!) or dress in the Mardi Gras colors of green, gold, and purple.
<![if !vml]>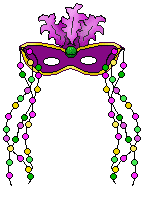 <![endif]>
RVSP on the Registration Form
(See link at bottom of this page)
<![if !vml]><![endif]>


The Mississippi State Song

Go, Mississippi


Words and Music by Houston Davis

Verse:

States may sing their songs of praise
With waving flags and hip-hoo-rays,
Let cymbals crash and let bells ring
'Cause here's one song I'm proud to sing.

Choruses:

Go, Mississippi, keep rolling along,
Go, Mississippi, you cannot go wrong,
Go, Mississippi, we're singing your song,
M-I-S-S-I-S-S-I-P-P-I

Go, Mississippi, you're on the right track,
Go, Mississippi, and this is a fact,
Go, Mississippi, you'll never look back,
M-I-S-S-I-S-S-I-P-P-I

Go, Mississippi, straight down the line,
Go, Mississippi, ev'rything's fine,
Go, MIssissippi, it's your state and mine,
M-I-S-S-I-S-S-I-P-P-I

Go, Mississippi, continue to roll,
Go, Mississippi, the top is the goal,
Go, Mississippi, you'll have and you'll hold,
M-I-S-S-I-S-S-I-P-P-I

Go, Mississippi, get up and go,
Go, Mississippi, let the world know,
That our Mississippi is leading the show,
M-I-S-S-I-S-S-I-P-P-I
Music on this page is
"Go Mississippi "

Mississippi was the 20th state in the USA; it became a state on December 10, 1817 .

State Abbreviation - MS
State Capital - Jackson
Largest City - Jackson
Area - 48,434 square miles [Mississippi is the 32nd biggest state in the USA]
Population - 2,844,658 (as of 2000) [Mississippi is the 31st most populous state in the USA]
Major Industries - farming (cotton, corn, soybeans, rice), oil, textiles, electronic equipment, transprtation equipment, fishing

Major Rivers - Mississippi River, Big Black River, Pearl River, Yazoo River
Major Lakes - Ross Barnett Reservoir, Arkabutla Lake, Sardis Lake, Grenada Lake
Highest Point - Woodall Mountain - 806 feet (245 m) above sea level
Bordering States - Alabama, Arkansas, Louisiana, Tennessee
Bordering Body of Water - Gulf of Mexico

Origin of the Name Mississippi - Mississippi is perhaps from the Ojibwa (Chippewa) Indian words "mici zibi," which means "great river" or "gathering of waters"
State Nickname - Magnolia State
State Motto - "Virtute et armis" - By valor and arms
State Song - Go Mis-sis-sip-pi

State Bird - <![if !vml]><![endif]> Mockingbird

Above information gleaned from: http://www.enchantedlearning.com/usa/states/mississippi/

Everyone study up on the great state of Mississippi, you never know, there may be a test!